The Luchs Brothers began as a sketch-comedy act from Wheaton, Illinois, featuring Kurt, Ernst (aka Murph), Helmut and Rolf Luchs performing at venues such as comedy clubs, coffeehouses and colleges in the Chicago area and throughout the Midwest, and occasionally beyond. Rolf dropped out of live performances and recordings after a couple of years but stayed involved in some of the group's writing projects. Gradually they evolved into creators of humor in other media.
They became writers of funny prose after the manner of their New Yorker heroes Robert Benchley, James Thurber, S.J. Perelman, Dorothy Parker and Woody Allen. For five years they published a weekly humor column in The Prairie Sun, a Midwestern alternative newspaper distributed at record stores, head shops, book stores, universities and other disreputable outlets. Editor Bill Knight doubled down on this madness when he agreed to collect the best of their first two years' worth of columns into a volume called The Luchs Brothers End-of-the-World Party Book. Dear friend and mentor David Ossman of the Firesign Theatre wrote the introduction, and New Yorker/National Lampoon/Playboy cartoonist Gahan Wilson drew the full-color wraparound cover according to the Luchs Brothers' specifications. The book also included comic line drawings by Mike Linz and surreal author photographs by Terry Murphy, both now sadly deceased.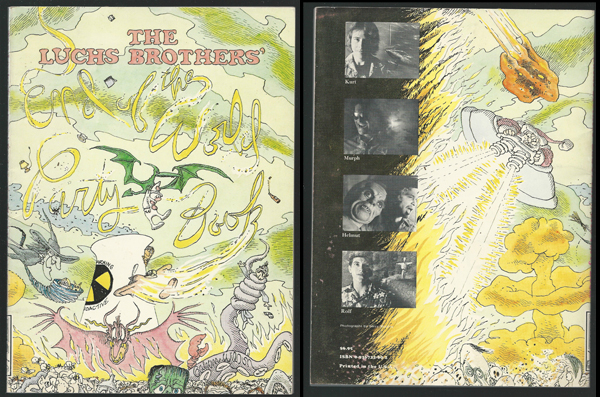 At the same time the siblings bought recording equipment and set up their own studio and record label, Retread Records, with their producer, engineer and all-around collaborator Jim Youker.
The first – and as it turned out the only – official product of this investment was a 45 rpm seven-inch vinyl single called "Kill Me I'm Rotten," a parody of the Sex Pistols. The flip side was a parody of a love ballad with Chipmunks-style background vocals called "Losing My Lunch Over You." Both tracks had lyrics written by Kurt and music written by Jim Youker. Kurt sang "Kill Me I'm Rotten" in his best Johnny Rotten voice – the only singing of which he is capable. For "Losing My Lunch Over You" he did the spoken-word intro, but the actual singing was done by Don Dumper, who also handled the half-speed high-pitched backing vocals.
The record sold pretty well for a novelty release on a small, independent label, particularly overseas in the UK. Several things contributed to the single's unexpected success. It was widely and well-reviewed in the music press, in such influential places as Trouser Press. It received airplay on the nationally syndicated Dr. Demento Show. The Luchs Brothers did a brief and harrowing West Coast promotional tour, touching down in Los Angeles, Santa Barbara and San Francisco, and in addition appeared on a handful of Chicago radio stations. Bomp Records took a number of copies on consignment, and even eventually paid for some of them.
"Kill Me I'm Rotten" was also cleverly packaged with a design by Don Toht, who drew the Retread Records flat tire logo as well. The front cover shows Jim Youker in some kind of military uniform (actually a security guard's outfit) firing a handgun at Kurt, who is strapped into a chair. The title of the A-side is shown emerging as bloody red splattered letters from the other side of Kurt's head. The cover photo was taken without permission in the basement of the Wheaton College gymnasium using a real handgun. Instead of the usual paper sleeve, the single came in a distinctive LP-like cardboard jacket. A sticker at the top tried to generate controversy and interest by falsely declaring the 45 to be "Banned in Uganda, China and Alabama."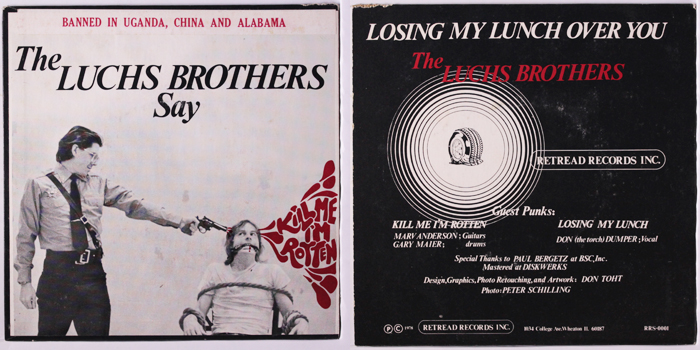 Having enjoyed some unexpected attention with their first release, the Luchs Brothers found it also created problems for them. Not being musicians, they were unable to perform their minor hit live. Nor did they know how to follow it up, especially as it had created the impression in some quarters that they were a punk group with a sense of humor rather than a comedy group making fun of punk music. Finally, Ernst and Helmut had not been creatively involved in it, and were feeling understandably left out and misrepresented by a record that claimed to be by the Luchs Brothers, as opposed to a lone Luchs Brother.
For their would-be second release they recorded several non-punk parody songs, including a Johnny Cash takeoff called "Bacon County Jail" and "The Beer-Belly Polka," a swipe at homegrown Nazis who were then all the rage in certain Chicago suburbs. These had lyrics written and sung by the group with music written by Jim Youker and performed by studio musicians. As the second record was a 33 rpm seven-inch vinyl EP, not just another single, there was more playing time and therefore room for several group-written comedy sketches in addition to the songs, which were presumed to be more radio-friendly. "Phone Calls to God" featured a somewhat fey deity taking calls from devoted listeners. "This Is a Test" was a takeoff on tests of the emergency broadcast system. "Rats Live On No Evil Star" was a bit of backwards masking inserted as a Beatlesque in-joke for those willing to decipher it. The most fully realized piece was "The Luchs Brothers on Parade," which had the boys imitating network reporters doing parade coverage.
The whole thing was called "We Are Farmers and Comedians Too," after a song on an obscure Chinese propaganda record titled "We Are Farmers and Soldiers Too," which had been obtained at the Chinese embassy in Chicago. The packaging was far more ingenious than the record itself. It included a number of printed inserts, such as a picture of Chairman Mao, whose face showed through the circular hole in the front of the record. When removed from the sleeve, fake photos of the Luchs Brothers were revealed surrounding Chairman Mao, actually taken from cast photos for the program for a real Chinese propaganda play. On the reverse of this were the recording credits.
Further, there was a card for ordering more Luchs Brothers products, designed as a three-dollar bill with the inscription "Maniacs Make Better Lovers!!!" There was a lyric sheet. And finally, there was a printout of a parody of a Chinese propaganda play called, appropriately enough, "We Are Farmers and Comedians Too," written in the stilted, mangled English of such things. A revised version of this later appeared in The Luchs Brothers End-of-the-World Party Book. Outside the front of the record, on the shrink-wrapped plastic, was a sticker saying "This EP Provides 14 Min. 38 Sec. of Good Clean Fun Plus Top Secret Prizes!" An ink stamp on the back of the sleeve read comfortingly but also ominously, "Contains Acceptable Levels of Radiation."
The trouble was, after having gone to the considerable trouble and expense of writing, recording and pressing the EP and assembling the complicated package, the Luchs Brothers decided the material was not worthy for any number of reasons and immediately suppressed it. Creatively, it was the right decision. If only it had been made earlier. Financially, it nearly bankrupted them, and they never quite recovered from the aftershocks. Fewer than a hundred copies escaped into the hands of family and friends, and almost none of those exist today. Nearly all of the rest were destroyed.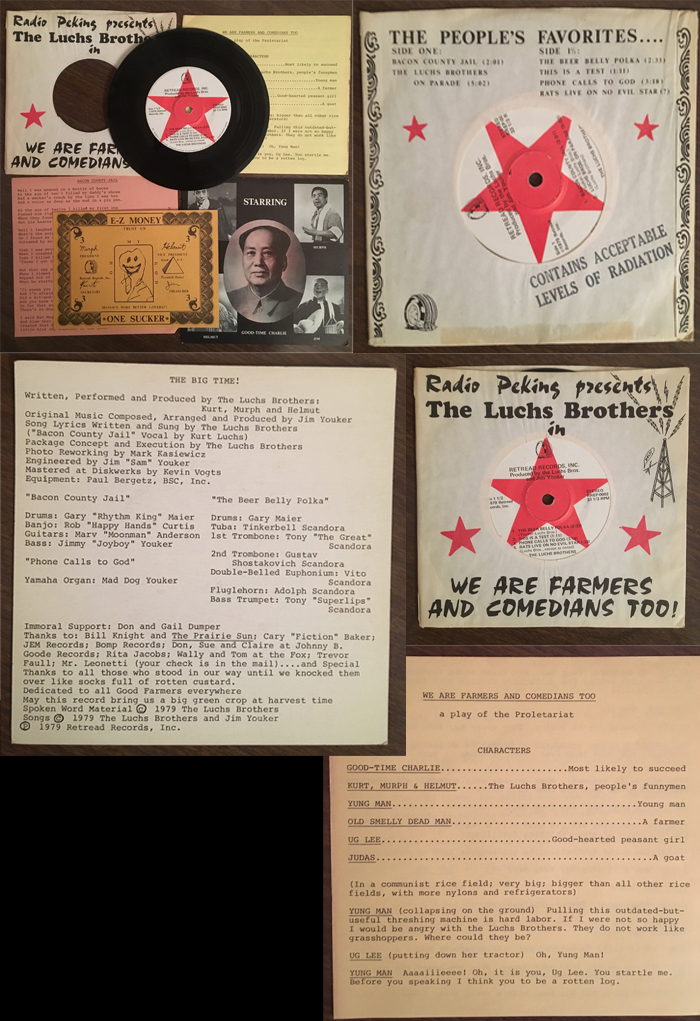 They continued to perform live, writing and mounting new stage shows every few months. Kurt and Ernst also gave occasional comic, and sometimes even serious, poetry readings. Simultaneously their prose was blooming far more impressively on the printed pages of The Prairie Sun, and they began writing more elaborate studio works in the manner of the album-length epics of the Firesign Theatre, their primary influence in the field of audio comedy. None of these longer works were ever recorded. Even with their own studio, they simply didn't have the means to do them justice because of all the expensive post-production required at the time.
They did put the studio to good use recording shorter bits, all of which were better than the material on "We Are Farmers and Comedians Too," but none of which were ever released. The brothers found they were able to make some money creating funny commercials for various clients, including The Prairie Sun, Co-op Records, Rave-On Records, The New Satirist, and Computer Rental Corporation of America, among others. None of those spots have ever been heard since their original broadcasts.
Their final creative burst involved a series intended for syndication on college radio called "Radio Free Love," featuring a combination of old studio recordings, new studio recordings, readings from their humor column, and something they had never attempted before, studio improvisations. Unlike nearly every other sketch comedy troupe on the planet, they had never trained in this seemingly basic skill, and "Radio Free Love" offers tantalizing glimpses of where this new direction might have led them, with the encouragement and collaboration of their producer Jim Youker, and the liberal use of early forms of sampling and "found" audio from such things as an old LP on how to take dictation.
Unfortunately, it was not to be. Only four half-hour episodes were finished, the group's confidence growing and each episode better than the last, and then the evocative opening of a fifth never-to-be-completed episode. None of these ever aired, on college radio or anywhere else, partly due to licensing issues (they wanted to include funny songs by groups they admired, like the Residents). Helmut departed after the third episode to get married, and the others also found themselves in long-lasting relationships. The end was near.
Although the group officially broke up in the mid-eighties, they continued to work sporadically on miscellaneous projects into the nineties and even into the new millennium.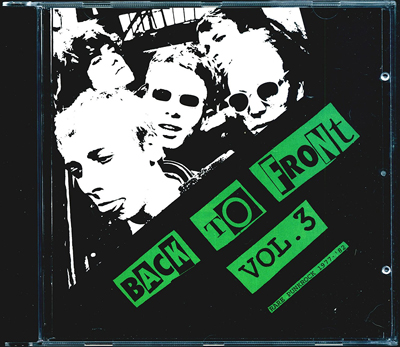 "Kill Me I'm Rotten" has since been bootlegged several times, most notably as part of the infamous "Killed by Death" or KBD underground punk series, and was also officially re-released by the German punk label Incognito Records. The original version of the song was included on Incognito's 1993 CD and LP compilation "Back to Front Vol. 3," while a specially re-recorded version was issued as the B-side of a 45 rpm seven-inch vinyl single from 1994. This was billed as being a live performance at the state mental home in Elgin, Illinois – a venue the brothers actually did play once, though never that song. In fact it was a doctored version of the original studio recording with a new vocal, a new guitar solo by Tom Leeman and a fake live intro and outro. The A-side was a previously unissued recording called "The Hari Krishna Stomp," a George Harrison parody with punk lead vocals, dating from a pre-9/11 time that no one remembers today, when Hari Krishna followers were allowed to harass travelers and beg for money at airports. The background vocals were by Don Dumper and Sue Burke.
Today the Luchs Brothers are widely scattered. Ernst lives and works in a Chicago suburb, and writes poetry. Helmut is a gaffer and lighter for commercial and industrial films, also in the Chicago area, and the father of two musical sons, rocker Klaus and jazzman Hans (Kurt occasionally writes songs with both of them). Rolf moved overseas to become an entrepreneur. After separate careers on both coasts writing comedy for television and radio, and humor for publication, Kurt lives and works in Red Wing, Minnesota, where he runs a cluster of four radio stations for Q Media Group, and continues his active writing career with poetry, fiction and other projects. All of the brothers have contributed to Kurt's literary humor site TheBigJewel.com, which was a going concern from 2002 to 2019 and the archives for which are still available.
They plan to issue a CD featuring some of their many unreleased recordings, and a revised, expanded version of The Luchs Brothers End-of-the-World Party Book. They would also like to publish and if possible oversee the production of their longer radio plays, which include such unread and unheard titles as Second Honeymoon, Dale and Billy, Dead Man Jones, Sealed for Your Protection (aka The Prison Story), and Dirk Scabbard – Home Front Hero. The complete script for Dirk Scabbard — Home Front Hero has at last been published and can be found at both The Charles Carter and TL;DR Magazine:
https://www.tldrmagazine.com/single-post/2017/08/09/Dirk-Scabbard–Home-Front-Hero-A-Radio-Play-Kurt-Ernst-Luchs-Lazarus-Productions